Thinkific is a platform that in a short space of time has revolutionized the online education market. Thinkific empowers entrepreneurs and small businesses to create online courses. Making it easy to manage your course and sell it for a profit. But, as with any training course, there are good, not so good, and great courses. Here we give you 19 expert instructional design tips so that you can benefit and create a great Thinkific course.
What Is Thinkific?
Thinkific is a software platform that helps entrepreneurs to create, market, sell, and deliver their own online courses. Thinkific's mission is to revolutionize the way people learn. And earn revenue online and turn their expertise into a sustainable business. One that impacts both them and their audience.
Currently, Thinkific supports online learning for over 50,000-course creators in 190 countries and in 20+ languages. And over 100+ million courses have been created generating $650 million on the platform. In a short period of time Thinkific has become a powerhouse in the online education world.
As an all-in-one online course platform Thinkific empowers anyone to create and deliver courses on their own branded site. Whether your goal is to educate your customers or to sell courses. Or to grow your brand and engage your audience. Thinkific makes it easy.
Benefits Of Thinkific
There are many benefits to creating Thinkific courses including
Thinkific is easy to set up and get started with to create online course
You can customize the look so it matches your businesses brand
You can create quizzes and knowledge checks to assess how well course participants are doing
The Thinkific product team listen to feedback and regularly create new features and upgrades
There are flexible pricing options including a free option. A great way to get started and test the platform out
You can set up your course so that although Thinkific hosts it, you can have a custom domain. So it appears part of your website.
The phone and online support is top-notch
Thinkific has minimal downtime. Its uptime is an excellent 99.9%
Thinkific has great security for your site. Including 24/7 secure hosting, regular automatic back-ups, and built-in SSL certificates
There is easy integration with data analytics including Google Adwords, and Facebook
Offers secure payment integration with PayPal and Stripe
There are many course feature options. Including a drip, schedule to send out content at predetermined times. As well as private and hidden courses, allowing multiple instructors, and memberships sites
Provides course completion certificates for those who complete your Thinkific courses
Thinkific has customizable course pages
The management of all your students can be easily handled with a user-friendly tool.
How To Create The Best Thinkific Courses
Thinkific is a platform that helps experts package their knowledge and expertise and sell it. Or provide it for free to an audience. And it's very easy to get set up and started in Thinkific. A lot of the set-up and course creation menus are easy to follow so you can get started immediately on your course. But unless you're an expert in instructional online design you're unlikely to know all the tricks of the trade. At least at first. But don't worry. As an instructional designer, with over 30 years of experience designing and creating online courses I regularly work with subject matter experts. And help them to create a great online experience.
We take a product approach with our clients, so we add in marketing techniques as well. Including identifying your audience, and then positioning and packaging your instructional product. All the while ensuring that it's a great learning experience. So, at Spark + Co., we've come up with 19 instructional design tips and techniques for you to use in Thinkfic. Each one will enhance the learning experience for your audience. Including taking a product approach to elevate your Thinkific course.
Tips For Small Businesses Using the Free Thinkific Pricing Plan
As you can see below there are several things you can do to enhance the benefits your small business gets from Thinkific. Even if you are on the Free plan!
1.  Don't Overwhelm Your Learner
Often novice course designers in Thinkific see a lesson type and think that any time they have a different type of media they need a different lesson type. But this can very quickly result in a course that overwhelms the learner with the excessive amount of lessons they see they have to complete.
Instead, a better approach is to map out your course structure. Then organize the content in a manner that makes sense. For example, in the images below there are two ways to layout your course. In the first example, the novice designer has set-up up many different gardening lessons by month.
The menu structure above can be overwhelming to some leaners.  In the second example, the course designer has organized the lessons by gardening seasons. And has included various elements within one lesson. In the latter example, the lesson structure is aligned with the learning objectives of the course and doesn't overwhelm the learner.
2.  Styling Your Text Lessons
While we are on the subject of text lessons, you can also do a lot in Thinkific to make the lessons fit your business's brand. Even using easy ways to style your text. For example, changing the color of the text. Or using the same color palette as the brand of your business can make your course stand out. Or adding images or gifs can enhance the look and feel. And if you follow good design principles, you'll also help manage the cognitive load. So the learner isn't overwhelmed.
For example, the screenshot styling on the right includes a clear title (Winter) as well as clear subtitles for each month.  Also there is a decorative, free, image (refer to tip 12 below).
We have created two Thinkific video tutorials by a Thinkific Specialist.  They demonstrate features you can use to enhance your Thinkific course.  One is on Text Styling and shows many options to consider in styling your text lesson in Thinkific.  Including taking into account some accessibility factors.  Access your free Thinkific video tutorials here.
And two good resources for visual styling are:
3.  Include Worksheets
Including worksheets in your course can do many things. Firstly, they can provide some variety in your course for your students. But of more importance is that they are an instructionally sound tool.
There is a saying in the training industry: "Telling ain't training". A series of well-produced videos isn't really training. It's telling. If you create interactive videos, they can becoming an effective training tool. But worksheets can be a way to go beyond sharing passive content. According to Dr. Will Thalheimer, 4 things make e-learning great:
provide an opportunity to recall a practice
provide learners with realistic decision making and authentic tasks to practice,
offer feedback on the e-learning activities, and
include spaced repetition of activities over time
Including worksheets in your Thinkific course allows for authentic practice for your learners. Your worksheets could be a fillable PDF, a downloadable Google doc, or a tool like Course Notes. Using a product approach to your Thinkific course you would decide how to package up your course. For example, what's included? Only the course, or including extra worksheets, and/or maybe some follow-up feedback. And what price you decide to sell your course along with the expanded package of extra tools and features.
4.  Include Examples In Your Thinkific Course
Often students need to see examples to know what good looks like. So, you should invest some resources to develop the following:
Annotate your videos or make them interactive. This is especially good if your course is about teaching a technique
If your course includes elements of inner reflection then consider creating examples of how someone should complete your worksheets
Create a case study. This is especially useful if your course is about a method or process. In the case study, you can provide insights into why following the process is important
If you apply a product approach you could re-use some of these as freebies or loss leaders. And show the quality and value of your product.
5.  Convert Webinars Into Self-Paced Learning
One way to create your Thinkific course is to start by using existing assets. An economical technique we use at Spark + Co., with some of our Thinkific clients is to take webinars or recorded lectures and deconstruct them. For example, we strip out the audio and transcribe it. This provides a text version of the new course. Then we redesign the slides using an authoring tool like Articulate Storyline. Then the audio is synced up with the new slides and converted to a self-paced Thinkific course. As well we turn polls, Q&A sessions, and discussions into new interactions. For example, a poll could become a multiple-choice question. Or a Q&A session could become an interactive activity, such as a click to reveal exercise. As well you can take the transcription and can turn that into other supporting components of the course. Such as an e-book, workbook, or extra content.
For instance, below is an example from GeoEnviroPro.  They provide training for environmental science and engineering professionals.  In this case we took recordings of their live (Zoom) sessions, and converted them into on-demand content. We took the audio, and PowerPoint slides and then rebuilt the course in Articulate Storyline. This enabled GeoEnviroPro to run a webinar, and then repurpose that content into a course too. You provide us with the video of the recording and your slides.
The above, pre-recorded webinar, has been turned into a course in Thinkific below.   This is an economical way, using existing assets, to create an interactive course for your learners.
And if you don't have a pre-recorded webinar, you can always record a fake webinar. If you haven't an appropriate pre-recorded webinar, record your webinar without the audience. This then becomes your pre-recorded asset.
6.  Repurpose Your Existing Assets
When developing your Thinkific course, you can re-purpose a variety of existing assets. For example, slide decks, videos, podcasts, blog posts, brochures, infographics, and other animations. When re-using your existing assets, you should plan how to sequence them together. The learning experience of the audience must be top of mind. So that you don't create a disjointed mishmash of slides. But a well-designed course with a variety of interactive elements.
7.  Understand The Value Of Your Course To Your Audience
It's very important when creating your Thinkific course that you focus on your target audience and not on you, the expert. Knowing the problem that your course is going to solve for your learner is crucial. One way to do this is to think about the learner 'hiring' your course to do a job and what that job is. A useful tool for this is the jobs-to-be-done framework. And these 'jobs to be done' can be functional, social, or emotional jobs.
Examples of these are
| | | |
| --- | --- | --- |
| Functional | Emotional | Social |
| Complete a task | Feel good | Look good |
| Solve a problem | Increase confidence | Gain status/power |
| Save time or money | Increase security | Perceived by others |
The emotional jobs are the ones that matter. That's where the value can be unlocked. Your content is usually the "functional" job (I want to learn about …….). But the social and emotional jobs are why someone wants/needs to learn about it. And using a product approach is essential here. By doing market research you can be clear about why your potential customers would buy your course. Often the reason they buy it is rarely due to your content.
If you want to research the jobs to be done approach, this article by Ger Driesen is a good place to start.
A classic video by Clay Christensen from Harvard explains the 'jobs to be done' concept using milkshakes as an example.
8.  Validate Your Course Idea Using Keyword Research
Think you've got a good idea for your course? Wouldn't it be nice to be able to test your idea out first to see how popular it's likely to be? Well, the good news is that you can. By doing some inexpensive keyword research you can gain a lot of insights into how popular your topic is going to be. And also, how much competition you are going to be facing from other courses aimed at the same audience. For our clients, we can compile a report that identifies how often people search for the key terms associated with a course topic. That is how many people are looking for information, or how likely they might be to take a course on your topic. As well, we can identify how much competition you have for that topic. Also, we identify important nuances that may help to focus, position, or market your course. If you are looking to create a course on an already popular topic, how can you best get your piece of the pie? Or can you find an under-served market to create your course to fill that void?
9.  Enhance The Instruction In Your Video Lessons
When someone is passively watching your videos, they may not know what it is that they should be paying attention to. So, give them some direction by adding text under the video lesson. As well it provides more variety to the course for the learner.
And you can also include downloads that can help your learner apply what you've been teaching. For example, you can include worksheets under the video for people to download. They are then able to practice what you've been teaching them at a later time.
Since you want the learner to do something different try giving them a few tools. For example, checklists, reference guides, illustrations, completed examples, or helpful screenshots.  There are several tools to help you create great videos.  For example Motionbox is a video sharing service with a lot of cool and impressive features.
This article by Donald Clark provides 15 things research says about video for learning and his later post on 10 researched tips to produce great video in learning are both very informative.
10.  Use Some Animated Videos
Sometimes video's using the talking head instructor can be useful. But as the old adage goes "Talking isn't training". So, replace some of your talking head videos, with other activities. Or at least enhance them by adding visuals that reinforce what you are trying to convey. For example, add images, illustrations, schematics, and charts that support what you are trying to teach. But, be careful not to add too much cognitive overload. You are not trying to entertain your audience. Instead you are helping them convert new knowledge from working memory into long-term memory. There are several tools you can try including Castofly, Vyond, and Adobe After Effects. These will help enhance the video lessons you create in Thinkific.
Another good resource is this article on tools to make your own animated videos and this post on how to create PowerPoint animations.
11.  Instructional Video Resources
Research has shown that video can be a very effective educational tool. And can enhance learning in your Thinkific course.
But making instructional videos can be a bit daunting if you've never done it before. Yet there are some great resources available that can help you out. For example, Techsmith has a great guide on how to make instructional videos. It includes an explanation of what instructional videos are and the common mistakes people make. As well as how to use screen recording to make an instructional video, and how to make one with a camera.
Another great resource is from Vanderbilt University. It explains cognitive load and cognitive theory. And provides solid recommendations for creating your instructional video. Including
Keep videos short and focused on learning goals
Use complementary audio and video elements to convey your explanation, and
How to focus on creating an active learning environment
Ever thought of including a video interview as part of your course? This is a good resource for filming an interview. And Wistia has many helpful videos on how to make better videos.
12.  Use Quality Images
Sometimes it can be difficult to generate custom quality images for your course. But adding in pertinent quality images can enhance your Thinkific course. Nowadays that's much easier as several free sites have high-quality images you can use. For example, check out Unsplash, Pexels, and Pixabay.
But adding images should not only be decorative. You should make sure to:
Select images that convey your message
Attribute the owner
Add alt-text (important for accessibility AND for SEO)
Consider appropriate style elements to reinforce your brand. Such as a color wash, and text overlays
13.  Audio Lessons In Thinkific
Audio lessons might not seem like a natural fit for an online course. But if your content doesn't need visual instruction, then an audio lesson is something to explore. For example, if someone is listening to a lesson on their commute or while walking, this is a great option. You can add audio lessons, or on the basic plan use Thinkific integrations like Hello Audio. Or create a pod-course. And make sure that you transcribe the audio so that you can repurpose the content in other ways. For example, you can use it to produce an e-book, supplemental text lessons, and social media posts.
Tips For Small Businesses Using the Basic, Pro, and Premier Thinkific Plans
As you saw there are many ways that you can enhance your course even on Thinkific's free plan. And there are more ways your small business can enhance its courses on Thinkific using features and tips available on a regular-priced plan. Check the Thinkific site for specifics on what you can do with each plan.
14.  Leverage Semi-Synchronous Options
During COVID-19 many people turned to virtual meeting platforms, such as Zoom, to deliver their training. These can be a useful tool in the toolbox, but if it's the only option you use it has its limitations. For example, doing lots of synchronous courses (where you are the live instructor) can be exhausting.
But, using Thinkific there are ways you can add in some semi-synchronous options. So not only do you add extra variety to your course, but you also make it less demanding on you, the instructor. For example, you could use a tool like e–Webinar. e-Webinar is a tool you can use with the Basic Thinkific plan. It allows you to record parts of your webinar which you can then include in your Thinkific course. So instead of all your lesson being live, you could start with a pre-recorded webinar. And then switch to live interaction. Perhaps then having a group discussion on the topic.
Also, with the Pro Thinkific plan you can use the Zoom integration to enable you to use a flipped-classroom approach. In this situation, you would complete the theory in your Thinkific lesson. Then have another lesson that is a live Zoom link afterward for applying the theory. You could have the learners present what they learned, go into a breakout for a small group discussion, or review a case study. The example below is an illustration. The Circle Education Society encourages young people to challenge assumptions and learn skills that foster healthy and equal relationships. Below is an example of one of the Thinkific courses we developed with The Circle. In this instance the learners are first asked to complete a journaling exercise.  After this they then watch a video clip before going into a Live Session (shown by the red arrow on the menu). After the Live Session they have some reflection and downloads that they complete.
15.  Consider Using Drip Options
A neat feature of Thinkific is that you can also use email programs to push your content out in a series of 'drip' emails. This can give you the ability to include extra elements in your course. This can help increase the repetition and retention of a subject. For example – you could
Send a link to the new content
Send topical "news" items such as a link to a webpage, podcast episode, or video
Forward a link to a conversation in a community
Share a booking site for one-on-one or small group events, or
Send a link to an extra download of content
If you don't want to use email notifications, Thinkific allows you to set up your course in a series of 'drip' lessons. These are based on specific dates, or a recurring schedule (e.g. weekly). Or set on the completion of specific items. And some of this functionality is available in the free version.
16.  Create Your Content Using A Course Authoring Tool Such As Articulate
Creating the content using an authoring tool can significantly enhance interactivity. And help create very engaging experiences by importing them into the Thinkific platform. At Spark + Co., we use a variety of authoring tools. But frequently we use Articulate Storyline which can be used if you a Pro or higher Thinkific plan.
Articulate Storyline is a very flexible authoring tool. And you can create very engaging experiences for your course. If you are unfamiliar with Articulate, it is like PowerPoint on steroids. You can add animation, audio, video, screen recordings but create many user interactions. Such as with clicking, dragging, and typing. Or you could use the simpler Articulate Rise. This is a vertical scrolling experience with built-in template blocks. But still can add some interactivity to your lessons.
17.  Multimedia Lessons
In Thinkific there are also multimedia lessons in the Pro and Premier levels. These lessons enable you to embed other content, developed in a third-party tool. For example, Articulate is one option. But you can also use the multimedia lesson for a lot of different interactions. Below are a few examples:
The second  Thinkific video tutorial is for more advanced users.   Produced by a Thinkific Specialist it shows you how to add multimedia options to your Thinkific course.  Including how to create a timeline and an interactive quiz.  And it provides information on where to access lots of multimedia tools to enhance your Thinkific course.   Access your free Thinkific video tutorials here.
18.  APPS To Add Extra Value To Your Course
There are now apps that you can plug into your Thinkific site. And these can give your learners a more interactive experience. This allows you to customize the look and feel of your Thinkific course player even more.
Add Some Super Powers
For example, add some Super Powers to your Thinkific course. This site allows you to add new design options, features, and other capabilities to your site. Two great add-ons to check out are plaYEAH and Flix. plaYEAH gives you access to many features. Including pop-ups, a style editor, and a tour guide to add an extra layer of explanation. While Flix creates a Netflix-type experience for your learner. These can be useful if you want to group your courses into learning tracks or categories.
"We create new super powers each month for your Thinkific site so that you can have happier members, a memorable experience that helps improve results for your students and your business"

ROB GALVIN, SUPER POWERS
Add Gamification
Another cool app is Motrain. This app allows you to create points for an activity that can be redeemed for real things. If you have swag or want to offer rewards, consider using Motrain. It's a way to add in some game options and to motivate your learners.
"Learner engagement is key to a successful program, but the cherry on top is if you can connect engagement to improved business processes. With Motrain and Thinkific, that means increasing enrollments and course completions.  This ultimately leads to more course sales and will help you grow your business."

Jeff Campbell, motrain
The Motrain app introduces gamification where students earn virtual currency for completing lessons, courses.  And for referring their friends to your courses and bundles.  Tailoring the rewards store to your student's interests will help you attract, convert, and retain more students.  People are using Motrain as both an engagement and a marketing solution.  Jeff Campbell of Motrain says that he's… "thrilled about our integration with Thinkific because it helps students learn more. And helps Thinkific clients grow their businesses."
Add A BLOG
Another interesting way to enhance your Thinkific site is to create a blog for your course. Drop-in Blog does that for you. It's a tool that within minutes embeds a blog within your site.
19.  Create A Community
When setting up your Thinkific course, you might also want to add a community function. This can enable your learners to talk and interact with each other. Thinkific has a built-in option. Or if you have the free plan you can use Facebook, LinkedIn, or other social media groups. And adding a community and other resources might allow you to charge a subscription or membership. Rather than only a one-time purchase of your course.
Another good reason to add a community function is if you run your courses as cohorts. Including a community element, could be a feature of your program.
19 Powerful Ways That Small Businesses Can Benefit From Thinkific
As you can see Thinkific is a great platform for entrepreneurs and small businesses. But now you have 19 expert tips to use when creating your next Thinkific course. Using these you'll elevate an already good Thinkific course to a great one. And don't forget to access your free videos. They show step by step how to set up two of the most powerful ways your small business can benefit from Thinkific.
Spark + Co has worked with over 60 clients since 2007 providing custom e-learning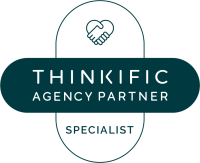 courses. And helping businesses, non-profits, and government agencies to achieve their training goals.  We help many of our clients in creating their Thinkific courses. If you need some expert help, get in touch with us now. And we can discuss how your small business can truly benefit from Thinkific.