What is Thinkific, why do people create Thinkific courses, and why are there over 100 million Thinkific course examples already!  Let us answer these questions so you can decide if you should be creating Thinkific courses to fill your education needs.
What Is Thinkific And Who Uses It?
What Is Thinkific? Thinkific is a software platform to help organizations create, sell, and deliver their Thinkific courses. And Thinkific has a robust platform making it easy for people to share their knowledge, grow their audience, and scale their training.
As an all-in-one online course platform Thinkific empowers organizations to create and deliver courses on their own branded site. Allowing you to educate your employees, customers or volunteers or sell your Thinkific courses. Or to simply engage your audience and grow your brand awareness.
What Is Thinkific By The Numbers?
51,000+ course creators
100 million+ Thinkific courses taken
190 countries using Thinkific courses
$650 million+ earned on the platform
Who Are Thinkific Courses For?
Many diverse organizations use Thinkific courses, including businesses, non-profits, and government agencies.
Examples of the varied type of organizations that often use the platform are:
Fast Growing companies and organizations who want to use education to help their customers succeed, decrease churn, and increase lifetime value
Organizations, including non-profits, who want to generate revenue from their educational content. We have many Thinkific course examples that generate revenue, including non-profits
Organizations who want to use education to increase brand awareness
Businesses, non-profits, and government agencies that educate employees, vendors, partners, or volunteers
Benefits of Thinkific Courses
Thinkific courses help organizations package their expertise and sell it. Or provide it for free to an audience. There are many benefits to creating Thinkific courses. Here are 15 of them…
Thinkific courses are easy to set up and get started
You can customize the look, so it matches your organization's brand
You can create quizzes and knowledge checks to assess how course participants are doing
The Thinkific product team listens to feedback and regularly creates new features and upgrades
There are flexible pricing options, including a free option. A great way to get started and test the platform out
You can set up your course so that although Thinkific hosts it, you can have a custom domain. So it appears as part of your website.
The phone and online support are top-notch
Thinkific courses have minimal downtime. Its uptime is an excellent 99.9%
They also have excellent security for your site. Including 24/7 secure hosting, regular automatic back-ups, and built-in SSL certificates
There is easy integration with data analytics, including Google Adwords, and Facebook
Thinkific courses offer secure payment integration with PayPal and Stripe
There are many Thinkific courses to use as examples that include clever features. Including a drip schedule, to send out content at predetermined times. As well as private and hidden courses, allowing multiple instructors, and memberships sites
Course completion certificates are available for those who complete your Thinkific courses
You can customize your course pages
The management of all your students can be easily handled with a user-friendly tool.
Thinkific is easy to start producing courses. But to create something that stands out from the crowd often requires extra skill and experience. And unless you're an expert in online instructional design, you're unlikely to know all the tricks of the trade. At least at first. But don't worry, as instructional designers with 30 years of experience creating online courses, we regularly build Thinkific courses.
Actual Thinkific Course Examples
Below are actual Thinkific course examples that Spark + Co. has developed for clients.
Thinkific Course Examples To Generate Revenue 
One of Thinkific's powerful features is its ability to optimize content and turn training into a profit center for organizations. It allows you to sell individual or bundled Thinkific courses to your audience. And it can generate reoccurring revenue through membership programs and course subscriptions. Or you can sell pre-packaged courses to larger B2B organizations.
Below are Thinkific course examples that Spark + Co. developed for two of our clients: Make Green Go and The Circle.
Thinkific Course Examples To Generate Revenue – Make Green Go
Make Green Go is an Oakland, USA company providing business development services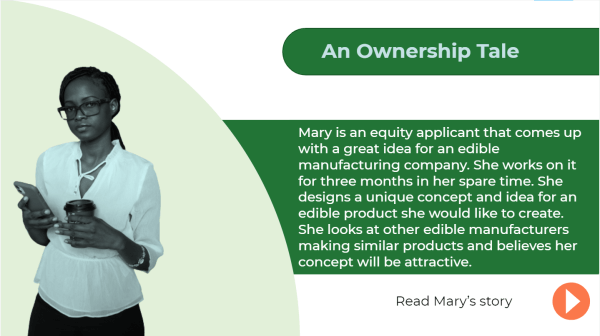 to individuals and companies. They have provided services to communities of color, including women-owned and veteran-owned businesses, since 2010.
Make Green Go had several goals in wanting to develop self-paced learning:
Improve the learning experience and convey higher value for their content
Streamline their offering of ad hoc courses into clear learning paths within an academy structure
Automate the courses as much as possible to make it a turn-key solution to scale to other areas
The Solution
We converted Make Green Go's content into 13 Thinkific courses with a new fresh, custom look and feel. Thinkific was chosen because the platform provided the turn-key automation that Make Green Go needed. And using our expertise, we re-created the content in Articulate Storyline. We added exciting interactive elements and then imported them into the Thinkific platform.
In addition to converting existing courses, we created five new courses and converted three webinars into new on-demand Thinkific courses.

Outcome
The Thinkific courses we created for Make Green Go significantly improved the learning experience of their customers. And we created clear learning paths within their academy structure. As well, automated tasks make it a turn-key solution. Now Make Green Go has a polished professional product site, allowing them to scale their business and license to others. And to work with new cities or states.
"This course looks amazing" Make Green Go
Thinkific Course Examples To Generate Revenue – The Circle Education Society
The Circle is a Canadian charity. It fosters healthy relationships to promote communities free of violence, bullying, discrimination, assault, and abuse. They have education programs for youth from grades 3 to 8. And programs for adults to make stronger connections with youth.
The Circle wanted to move its youth programs online to allow them to reach more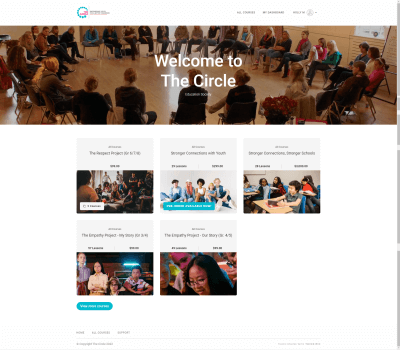 schools and educate more students. And to ensure that the learning experience met consistent standards.
As well, The Circle wanted to develop a series of programs for adults with the primary goals to
increase exposure of the youth programs to more adults
generate revenue
help the organization scale operations
improve the facilitation skills that adults have with youth
increase empathy and respect in interactions that adults have with youth
The Solution
Thinkific allowed the Circle to offer online courses quickly and provided the option for built-in e-commerce.
We designed and created three Thinkific courses for youth and two for adults. The youth programs were to teach empathy to kids in Grades 3-5 and respect to kids in Grades 6-8. For the adult programs, we created a blended training product. On-demand self-paced Thinkific courses augmented with live virtual training sessions. Demonstrating that Thinkific courses can be used in combination with other forms of training.
Outcome
The youth programs increased the number of schools and students able to participate in the Thinkific courses. Enabling The Circle to respond quickly to new requests. And to expand the number of programs they offer while providing a consistent learning experience. And the adult programs are meeting their goals and generating revenue for the Charity.
"I am just loving the multimedia and different ways of accessing the info and that it also takes us away from being so facilitator dependent. You have converted me!!!" Executive Director, The Circle.
Thinkific Course Examples For Employee And Volunteer Training
The Parent Support Services Society (PSS) for 50 years has been protecting the safety
and well-being of children. And promoting the health of all families by facilitating parent support circles weekly throughout the Province of BC. The support circles help parents, grandparents, and others raise a family member's child. They learn positive parenting in a safe atmosphere to share stories, learn new skills, receive support, and discover resources.
Previously PSS held a weekend-long training course to train the facilitators of the support circles. These were infrequent and couldn't keep up with the demand for new facilitators. And these didn't allow enough instructional time to provide the necessary support to the facilitators.
The goals of the assignment were to
provide an ongoing pipeline of trained facilitators
increase accessibility of training to enable more participation around the province, and
provide a platform for ongoing connection and learning for volunteers and staff
The Solution
Thinkific was used because, in testing, it provided the best user experience in comparison with other options. Spark + Co. took the weekend in-person training and converted it into a blended learning experience. It involved converting their content to on-demand and virtual delivery, setting up a Thinkific site, and training internal staff to manage their new program.
The Outcome
Now the PSS training for facilitators consists of five on-demand Thinkific courses and five live virtual training sessions. As well as enabling more facilitators to get trained each year, they also receive more instructional content. And PSS have a platform that allows them to provide extra internal training. Or free training to a wide variety of audiences, with the potential to generate revenue.
Other Thinkific Course Examples: Customer Education + Brand Awareness
There are also other types of education that Thinkific courses can be used for, including customer education and increasing brand awareness.
Customer Education
Thinkific courses can accelerate customer onboarding, time-to-value and increase adoption and retention rates. Designed in the right way, they can be integral to companies that want to
Boost customer activation with high value, fully automated customer onboarding
Significantly reduce churn through continuous, highly tailored product education, or
Engage new customers to drive increased upgrades and higher plan adoption
Learn more about the customer education services we provide at Spark + Co.
Increasing Brand Awareness
Thinkific courses are also adaptable and a good fit for organizations who want to use existing content to deliver live virtual training. This can drive new prospects to your website and increase brand awareness. If your goals are to
Attract new audiences by becoming the de facto educational resource for your industry
Build brand awareness and thought leadership by providing valuable educational content, or
Stand out from industry blogs with educational content that's proven to engage
then Thinkific is a platform that you'll want to consider. Learn more about the live virtual training services that we provide at Spark + Co.
Thinkific Specialists: Empowering Anyone To Create + Deliver Courses
As a specialist agency partner, Spark + Co. can help
your Thinkific courses excel and stand out from your competition. While saving you the time and resources, trying to master 30 years of tips and tricks we've accumulated.
Thinkific Specific Services
Creating a successful online course isn't as simple as taking content and dropping it into a template. It's a bit more complicated than that. It requires different instructional techniques than face-to-face training to achieve the same learning outcomes. And even if you do create the best online course from an instructional perspective, it's no use if no one finds it. As experts in instructional design, we design an instructional product and get it to market using proven techniques. Instructional design today includes:
Applying learning theories and models
Media production (video, audio, animation)
Technology (authoring tools, presentation, hosting)
Graphic/visual design
UX design
Accessibility
Marketing and Sales
As specialists in Thinkific courses, we bring the above expertise and more to create your instructional product.
The most common services we offer for creating Thinkific courses are: 
Course design
Course development
Pricing and Marketing
Design For Your Thinkific Courses
Balance what's possible with what's practical within budgetary or timeline limitations. Using our knowledge of instructional design and Thinkific, we'll find the right mix of media and lesson types to deliver your content. And we'll produce design documents and guides to deliver on your value proposition.
Developing Your Thinkific Courses
While Thinkific has built-in content development tools, we have access and experience using various "authoring tools." They allow us to create a host of fantastic content, interactions, and experiences in your course, including ones that will elevate your course above that of your competition.
This includes
Providing you with strategies for how to develop the right content type for your course
Developing courses using tools within and outside of the Thinkific platform
Developing templates and guidance documents for you to add future products yourself
Uploading and testing of content and course functionality
Marketing, Sales, And Pricing
Everyone has an idea for a course they'd love to create. But how do you know if there's a market for your course? And if there is a demand for it, how much should you charge for your Thinkific courses? Have you thought about bundling products to create greater value for your customers? How are you going to attract potential customers to your course?
Additional Resources And Thinkific Course Examples
Below are two resources that many of our clients found useful when embarking upon creating Thinkific courses. The first is a one-month free trial of the Thinkific platform. So you can get a feel for what's involved.
The second is 19 instructional design tips and techniques for you to use in your Thinkfic courses. Each one will enhance the learning experience for your audience, including examples of Thinkific courses that take a product approach.
Lastly if you are interested in learning more about any of our online learning services reach out to us.  We'd love to hear from you.